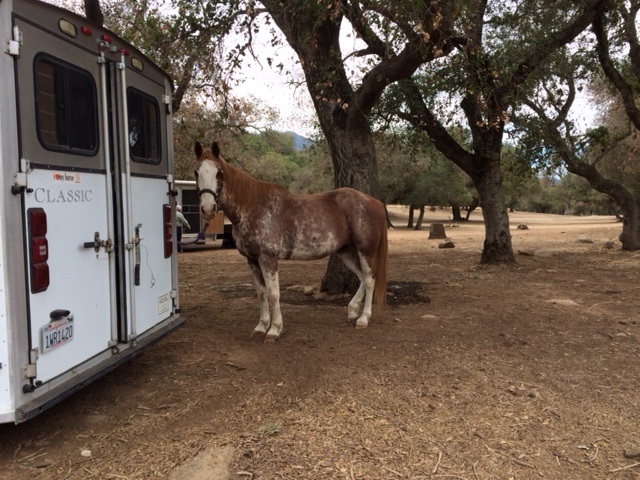 Just finished another wonderful campout with backcountry horsemen in Santa Barbara county. I LOVE MY ROMEO!
He was perfect!!!
Hope all is well with you.

Maureen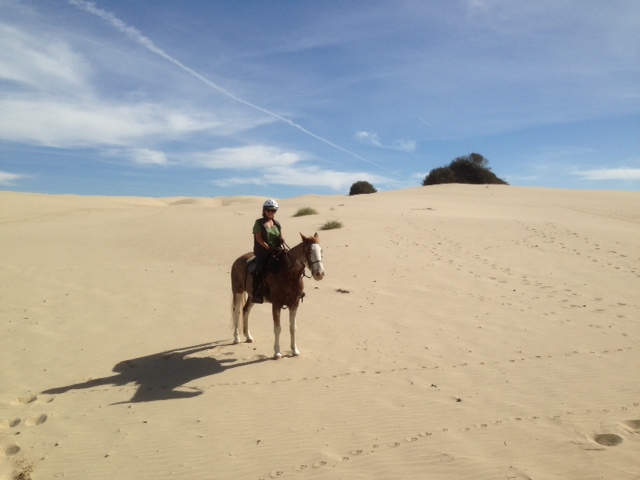 It's my Anniversary with Romeo! Two years ago on the 10th I picked him up and brought him home. And everyday I ride him I am so thankful. He was off for two months because of his foot and then I was sick. I put him in a round pen two days in a row to work him a little, then to the Beach. Never an issue, he's so solid and dependable!

Thank you so much for making him such a great horse!

Maureen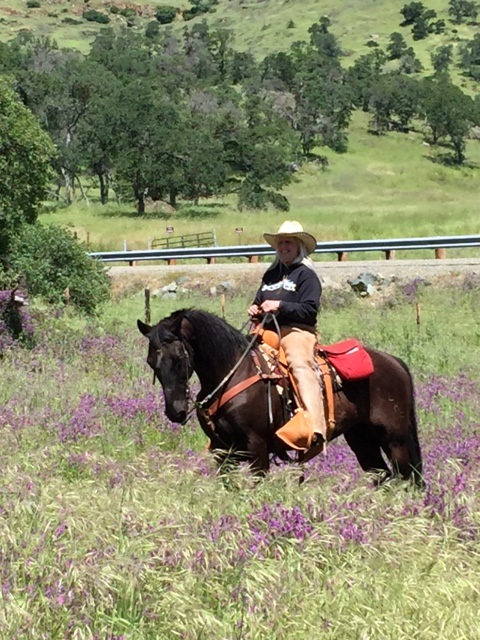 We absolutely love midnight...it finally quit raining .. I got over my cold and I got some days off work.. Took him out to the foothills yesterday.. He was perfect... Took him to backcountry horsemen trail trails today... He did it all any mistakes we made were mine not his...thank you, Terry




Ari really enjoyed his lesson. He said it was the best lesson he has ever had and we have done clinics with Richard Winters, Josh Lyons, Buck, Branaham, etc. I would like to set up another lesson for a two hour period - one hour for each of us for July 17th or 24th, if possible.
thanks a lot!
elise



Gaye,
Its going great. Red (we call teddy) is an awesome horse. A beginner rode him yesterday and he took amazing care of her. I love riding him too. Slim is doing good. But last night he had a rare night of misbehaving. Nothing serious. He hadn't been out in a week or so. He had lots of energy. Patricia

Slim is doing great. I still can't believe that I have such an awesome horse. Thank you :-).

I have been a trooper and have riden him everyday since he's been here. Once out on my own to the levee and around the field. He did really good. He obeys when told to slow on the way back. Amy took me on a river tour three evenings ago. We crossed the river at several places and crossed terrain I didn't even know a horse could pass. Now I've got budding endurance riding aspirations LOL. Tonight all three horses went out. Slim likes to lead going out and he actually wants to go faster going out. He was super cute before the ride. He was in the round pen and followed me around nickering while I was trying to catch Marquis who was on the outside of the pen.

Right now he has a routine which he seems to like. He spends the night in his stall (he seems to like that). After breakfast he is turned out in the round pen for the day. He and Marquis converse over the fence. Several times they have done that chewing on each other's withers thing over the fence. I was prepared today to get a video but they didn't do it. In the evening we ride. Then he is tied for awhile then back to his stall for dinner and his supplements. I haven't turned him out in the paddock that Charlie was in because I want to have the time to go over it with a new rolling magnet I just got.

I know he wasn't a forward horse there but he has been moving out well here. The levee is full of perils, dogs, bikers, traffic, gun shots across the river, cows in pastures, other horses. It's always different so I think that keeps him alert and moving. He does spook some but it's always in place. I haven't taken him far down the levee by himself but that is my next goal. I think it's going to take some time to get him used to being out there on his own. So far I couldn't be happier. I'm looking forward to many years and adventures with him.


You found me the perfect horse. Thank you :-).
Patricia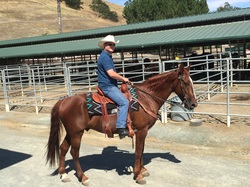 Just wanted to let you know, we love Hank!
Andy


Hi Gaye, I just want you to know Hope was wonderful camping at Pt. Reyes last week. I couldn't ask for a better horse. We went with her boyfriend so that helped, here are a few pictures of us and there are a few more on facebook. Thank you for bringing her into my life.
Her boyfriend is the pinto next to her in the pens, she love Neil's horse too. He stopped by her stall and they rubbed and groomed each other. I have another friend had a throughbred that does the same thing. Hope has a lot of admires. She has a wonderful life and is very happy. Wish you could come camping with us, it's so much fun. I'll give her a big kiss and hug for you.
Lee
Champ made it to his new home in Wisconsin this morning in great shape! His new owner is VERY happy with him. I cannot thank Gaye enough for her help in this whole process! I initially went to see her to evaluate my Rocky Mountain horse and to give me an idea of what I should ask for him. She was very thorough, rode him in the arena and out alone on a trail ride. She provided me a video camera to use and said she would edit and post that video and advertise him on her web site -if I would like. That same night she had it up on her web site and a few others places! I really wanted to find a good match for my horse. Gaye helped me with that too! I had interested people talk to her about Champ for an objective assessment of him and also assess the folks calling. We found a good match and then Gaye was very helpful with the details of the sale, including providing a sale contract and help locating horse transport.
I am very happy I found Gaye. She is amazing, generous, and knows her stuff! I would highly recommend her any one who is buying or selling a gaited horse!
Christopher Smith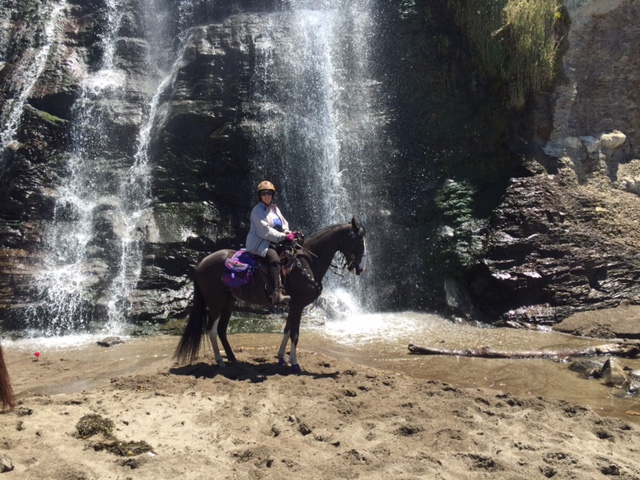 I started taking lessons with Gaye a year and half ago and what a thrill it has been! I'm new to the sport and have never done anything nearly as fun or rewarding. Being outside in the fresh air, using muscles you didn't know existed, and understanding that each horse has its own unique personality has been educational. What a fun experience and challenge to learn to ride a horse properly. Gaye is a knowledgeable teacher, very kind in her approach to instructing her students as well as in training horses. She has a great depth of experience and expertise in "horse psychology" with safety always at the forefront of her thinking.
A year ago, I purchased a wonderful horse through Gaye, Snickers, and what a love he was. We were perfectly matched and had a great time together….how patient Snickers was with me while I was learning! Unfortunately, Snickers passed on, but Gaye didn't let that stop me from learning how to move forward and find another "new love". Now, and thanks to Gaye, I have another perfectly matched love of my life, Toffee! Toffee and Gaye together are teaching me so much….things I didn't know I still needed to learn!
What I most appreciate about taking lessons with Gaye, is her ability to pinpoint exactly what needs to be corrected with me to bring about the desired result with my horse. Gaye breaks it down like no other trainer I have ever witnessed. It is simple, yet always effective. She communicates well, and also has a keen sense of what's best for the horse and the rider. Her approach differs on the needs of the horse and rider, but always goes back to the basic building blocks of good and safe riding.
Gaye is a gifted instructor. She has a way of guiding the student to make the needed changes without a lot of stress. She makes learning fun. Gaye has an arsenal of creative exercises to help the rider achieve their goals with their horse. She has a keen eye for what is needed to improve your riding and reduce your fears. And she is good at communicating this to the rider.
It appears to me that some riding instructors focus on how to make the horse perform at its best and some may only focus on how to make the rider more proficient and technically strong. Gaye well provides a combination of both that I find to be educational and fun. I feel like my horse is becoming more balanced with improved gaits through skill building exercises and a comfortable environment. With an emphasis on routine and building on the basics, I have become a more proficient rider who does not just look good, but understands how my actions as a rider are directly connected to my horse's performance. Gaye's lessons have been tailored to the needs of both Toffee and I, leaving me feeling like I have learned something new with every lesson and my horse has too! Because Gaye knows her horses so well, and endeavors to know her clients both as riders and as people, she is able to see more positive results in both her horses and riders. She tailors the instruction to fit the horse, the rider, and the moment. More than anything, I ride with no feeling of judgment or disappointment. She has a way of showing you what you're capable of and supporting you in order to help you achieve your best.
Gaye is a good person with integrity, honesty and compassion. If you have envisioned yourself learning to ride, becoming comfortable around horses, experiencing what is involved in the keeping and care of a horse, or dreamed of owning your own horse one day, lessons with Gaye is a great place to start!
Thank you Gaye!!
Kindly,

Shelly
My Tennessee Walking horse and I have been in training with Gaye Derusso for over seven months. I brought to Gaye a horse with "issues" that were, I was told by others, getting worse. His prior trainer no longer wanted to work with him. I sought out Gaye after hearing that she had helped others with their horses.


Gaye's expertise with gaited horses along with her positive attitude, tireless constitution, consistent, humane and creative training techniques have resulted in my horse and I developing a relationship with each other that I didn't think possible. I have learned from Gaye how to handle his "attitude." We have both thrived through her training. I now have a horse that is enjoyable for trial riding and who's gaits have improved tremendously - he now canters!

In addition to my own horse I have watched as she has trained other horses, seeking to improve upon each horse's natural talent. Gaye is truly dedicated to fully developing each horses physical potential but never at the expense of the horse's emotional well being.

Gaye takes special care and a customized approach with each horse she accepts into her training program. She allows the time to really get to know each horse's particular personality in order to establish the training methodology best suited for that horse. Upon commencing training with Gaye she confers with her clients to set training goals for their horses. And she meets those goals!

Gaye is readily available to respond to client's questions and concerns and remains open to suggestions and requests.



If you are looking for an experienced and caring trainer that delivers results I recommend Gaye Derusso. Her expertise and motivation are driven by a true love and appreciation of horses. Dana

This is Dana and Max